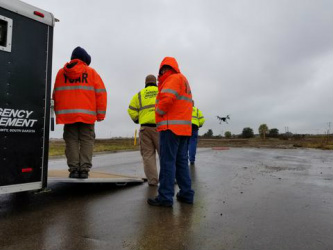 ALL-HAZARDS AIR OPERATIONS and
UNMANNED AIRCRAFT MANAGEMENT WORKSHOP

This one day workshop is designed to explain and introduce the concepts of All-Hazards Air Operations for the Command & General Staff is targeted for Command and General Staff on an All-Hazards (AH) Incident Management Teams (IMTs). Additional target groups are those Unit Leaders, especially those in Logistics who have considerable and critical interactions with the Air Operations Branch Director (AOBD) and air staff.

A final group that will benefit from this workshop are any of the 10 response disciplines identified by the Department of Homeland Security and personnel working in Support Centers ( EOC's, DOC's, JOC's) on all hazard incidents.

Aviation is one of the more complex components of AH response, and probably the least understood. With technology change, such as the increase of usage of unmanned aircraft in emergency service operations, a basic understanding of theses concepts is paramount for all emergency leaders. Close coordination and communication among the Air Operations Branch Director (AOBD) and other Section Chiefs, Command Staff, and Unit Leaders are critical to successful aviation mission execution.

This workshop has been developed by Subject Matter Experts with experience in both the wildland fire and all-hazards aviation environments. Participants receive a draft Agency Level Unmanned Aircraft Policy.


---
| | |
| --- | --- |
| FEBRUARY 26th, Des Moines, Iowa | FEBRUARY 27th, Lincoln, Nebraska |
ADDITIONAL DATES FOR THE AIR OPERATIONS AND UNMANNED AIRCRAFT WORKSHOP 2018

March 13th Brainard, Minnesota April 5th Denver Metro Area

April 20th Waterloo, Iowa May 8th Sioux Falls, Iowa

May 22nd FEMA Region 7


---
RESOURCES AND LINKS