The Blue Cell, LLC is one of the most active training companies of its type in the United States consistently delivering courses
coast to coast and in Alaska. For 2017 we are offering over 75 different curriculum courses and can also customize any incident or emergency management training that isn't found on the below list. Listing below is a sample of the trainings we offer. For our complete list of courses click on the home page button above, and scroll down to download our company capabilities brochure.
Advanced Planning Concepts: Developing Incident Action Plans-Our Flagship Training Course

This two-day session is designed to immerse the participants in the understanding and application of ICS forms, The Advanced Planning process, and several other critical advanced planning products and techniques. Participants work to develop an accurate, graded, Incident Action Plan and appropriate related products and displays while encountering a variety of stimulus that are experienced consistently in real world incidents. Course scenarios are based on the fifteen national planning scenarios and address both targets and tasks as outlined by the Department of Homeland Security.


---
| | |
| --- | --- |
| VALUE ADD ENHANCEMENTS- As part of the APC course any number of additional Blue Cell Proprietary Products and services can be added, such as the usage of our Chelsea County USA online simulation environment, A full diorama from our Command School TTS Product Line, Specific equipment and Tools from The NIMS Store, Specific software enhancements for Accountability and IAP writing or Custom Position Specific One Day (HSEEP complaint) Exercise Workshops as preparatory work for the Course. | This course has been approved and is in the DHS / state-sponsored catalog- number (NE-001-COMM) |
---
Whole Community Immersion Course

Like so many uniquely designed and delivered products we offer at The Blue Cell, LLC, Our Whole Community Immersion Course was developed based on a client request to create a course that would encompass many of the challenges a community faces in a disaster. Able to accommodate up to 100 participants from all aspects of a community including first responders, elected officials, government leaders, private sector and non profit capabilities, the course culminates with a functional exercise. We encourage communities to select a delivery location away from their jurisdiction to promote team building and limit distraction, but close enough to respond back if needed if an actual emergency occurs. TBC provides all of the equipment, logistical support, course materials and instruction at a price you wont believe.
https://www.facebook.com/The-Blue-Cell-LLC-108786579197403/photos/?tab=album&album_id=1105147719561279
---
Day One
Public Policy and Emergency Management / Homeland Security Impacts
Media and Public Information
Emergency Management Programming

Day Three
Situational Awareness / Damage Assessment
Leadership and Decision Making
Procedures, Processes and Plans
Critical Incident Stress Management
Special Situations


Day Two
Role and Responsibilities
Emergency Services, Community Services, Infrastructure Overview
Agency Administration and EOC Sections

Day Four
Functional Exercise


---
O-305 Course in the Denver Metro Area

November 27th, 2017 to December 1st, 2017


SUCCESSFULLY COMPLETED




Type 3 All Hazard Incident Management Team Training course (O-305) / United States Fire Administration

The overall goal of the Type 3 AHIMT course is to develop state, regional and tribal teams to function under the National Incident Management System NIMS during a large and/or complex incident, or a major event. This course is designed for those who are assigned to function on a Type 3 IMT during a large/complex incident, typically extending into multiple operational periods. This five-day course serves as a basic introduction to the activities and processes of an IMT and is all hazard in nature. This course meets the needs of the National Incident Management System (NIMS). The USFA Type 3 AHIMT course focuses on the importance of developing and operating as a functional all hazard Type 3 Team. This course is also a requirement for the AHIMTA Task Book.

---


Incident Command System Series Related Courses

The Incident Command System (ICS) and its related courses are the most popular courses taught at The Blue Cell, LLC. In recent years those deliveries nationally have exceeded 100 annually. Predicated on the concept of a system of management, ICS has evolved over time as the standard in the emergency service community and is now accepted nationwide.

---
---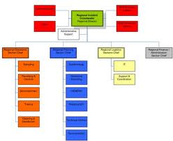 Position Specific Courses

The Position Specific courses developed by the Federal Emergency Management Agency expand the knowledge from the Incident Command System and address the specifics of a position in a comprehensive and understandable format. These courses are regularly updated and present the core responsibilities of the specific position and prepare participants for real world incidents.


---
L 950 All-Hazards Position Specific Incident Commander

L 952 All-Hazards Position Specific Public Information Officer

L 954 All-Hazards Position Specific Safety Officer

L 956 All-Hazards Position Specific Liaison Officer

L 958 All-Hazards Position Specific Operations Section Chief

L 960 All-Hazards Position Specific Division/Group Supervisor

L 984 All-Hazards Position Specific Task Force / Strike Team Leader

L 962 All-Hazards Position Specific Planning Section Chief

L 964 All-Hazards Position Specific Situation Unit Leader

L 965 All-Hazards Position Specific Resources Unit Leader

L 967 All-Hazards Position Specific Logistics Section Chief

L 969 All-Hazards Position Specific Communications Unit Leader

L 970 All-Hazards Position Specific Supply Unit Leader

L 971 All-Hazards Position Specific Facilities Unit Leader



L 971 All-Hazards Position Specific Facilities Unit Leader

L 973 All-Hazards Position Specific Finance/Admin Section Chief

L 975 All-Hazards Position Specific Finance/Admin Unit Leader

L-986 All Hazard Air Support Group Supervisor

L 987 All Hazard Introduction to Air Operations
---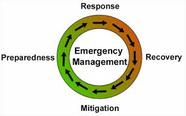 Emergency Management Series Related Courses


The G series of courses are by design State deliveries of FEMA courses and require the acknowledgment by the State Training Officer that the course is being conducted. A number of these courses are part of the Advanced Professional Series ( 10 courses identified by the Federal Emergency Management Agency).
https://training.fema.gov/programs/aps/
---
G191 Incident Command System/Emergency Operations Center (ICS/EOC) Interface

G250.7 Local Situation (RAPID) Assessment Workshop

G270.4 Recovery from Disaster: The Local Government Role

G393 Mitigation for Emergency Managers

G775 Emergency Operations Center (EOC) Management and Operations

G108 Community Mass Care Management

G 146 / 147 Homeland Security Exercise & Evaluation Program (HSEEP)

G197 Emergency Planning and Functional Needs Populations

G202 Debris Management Planning for State, Tribal, and Local Officials

G271 Hazardous Weather and Flood Preparedness



G272 Warning Coordination

G288 Local Volunteer and Donations Management

G290 Basic Public Information Officers

G358 Evacuation and Re-entry Planning

G361 Flood Fight Operations

G362 Multi-Hazard Emergency Planning for Schools

G366 Planning for the Needs of Children in Disasters

G386 Mass Fatalities Incident Response

G408 Homeland Security Planning for Local Governments (formerly Terrorism Planning)

G548 Continuity Program Manager

G550 Continuity Planners Workshop
AVAILABLE MAY 5th, 2017 - FEMA BASIC ACADEMY -L101, L102, L103, L104 and L-105 ( can be delivered onsite in preferred custom configuration
---

Weapons of Mass Destruction Series Related Courses

The WMD Series of courses that The Blue Cell, LLC offers come from a variety of providers to include but are not limited to The National Consortium of Domestic Preparedness Providers, National Health Care Systems, Federal Agency curriculums and custom curriculums developed by Blue Cell Subject Matter Expert contractors.



---
AWR-160 WMD Awareness Course

PER-265 Law Enforcement Response Actions

AWR-122 Law Enforcement Prevention and Deterrence of Terrorists

MGT-320 Computerized Aided Management of Emergency Operations

AWR-130 Incident Response to Terrorist Bombings

AWR-131 Prevention and Response to Suicide Bombing Incident

AWR-132 Understanding and Planning for School Bomb Incidents

AWR 140 WMD Radiological/Nuclear Awareness

AWR-185 Terrorism Awareness: Protecting Soft Targets

NLE-Index 036 Modular Emergency Response to Radiological Transport Training

Hospital Mass Casualty Patient Decontamination


Active Shooter Custom Seminars and Workshops

Basis Disaster Life Support and Advanced Disaster Life Support

Hazmat Awareness, Operations and Technician Level

---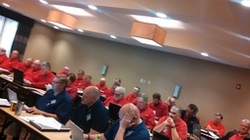 TRAINING, CONSULTING, EXERCISE, AND NIMS STORE PRODUCT PACKAGES

At The Blue Cell, LLC in addition to course customization we also specialize in force multiplying across our full company capabilities creating packages based on the courses above and adding our complimentary services from the consulting and exercise cells and additional package support product items from The NIMS Store. Com. This unique approach provides seamless integration of activities for any level of government, the private sector, tribal and for non governmental organizations.


---
---
HOSPITAL UNIFIED RESPONSE TRAINING ( H.U.R.T.) PROGRAM

Our #1 Training, Exercise and Consulting Package



Centering around one primary 8 hour workshop, the H.U.R.T. program uses a building block approach, combined with immersion techniques used in advanced training doctrines found in the special operations and US Military community. Each element of the program is not only built on the next, but also interdependent to maximize effectiveness in shortest amount of time and increase capability no matter the size of the hospital or health care system.


---
| | |
| --- | --- |
| The Blue Cell, LLC, H.U.R.T. program is designed to meet or exceed new National Standards for Hospital and Health Care Provider National Standards. | |
---